We are proud to present an opportunity to escape to an undiscovered paradise, situated north of Lucca, in the dramatic beautiful region of Tuscany.
Colletto is an exceptionally beautiful early 19th century estate. It is located in a spectacular region with breathtaking 360° views over romantic hillside villages, lush wooded countryside to mountains and beyond. These luxurious properties with private heated pools are set in four acres of ecologically managed Italianate gardens comprising terraces, formal areas and woodland walks.
A tranquil and idyllic retreat which basks under the Tuscan sun, Colletto is perfect for those with discerning tastes.
Colletto is a much loved property, surrounded by beautifully maintained gardens with topiary shrubs, flowers and hide-away bowers for secluded eating and sunbathing.
There is an aura of serenity and peace with breathtaking views and pure air which makes the area a paradise for walkers, artists, nature enthusiasts, gourmets and adventurers.
Let's get to know Colletto Villas passionate host Palmi,
that has been rated superhost 12 times on Air BnB.
Do you have a favorite place in Tuscany?
Of course Villa Colletto, Serchio valley and the Garfagnana area.
What activity do you recommend, while staying at Colletto Villas?
We have several including hiking/biking tours, spa tours, action with river rafting or quadra bikes, Canyon park with yoga, massage and dinner.
What is your favorite Italian dish ?
Starter: Burrata mozzarella cheese with fresh pesto
Middle course: Seafood risotto Pasta: Ravioli with pecorino cheese sauce and filled with truffle cream
Main: Fiorentina steak Desert: Our chef Maura Tiramisu
Do you have a favorite wine to recommend?
Le Sirah from a local winemaker Lenzini. Chosen the best syrah in Italy 2018.
If I have never tasted Italian wine, what should I start with?
Chianti classico from Volpaia. Their riserva 2015 was the 3 best wine in the World by Wine spectator 2019, still only 16€.
Can you share a dear memory from Colletto Villas?
All the weddings have been amazing.
What can people expect from staying at Colletto Villas?
Exclusivity, privacy, personal service, amazing views, beautiful garden, heated pools and great food and wine at a reasonable price.
What is your favorite thing to do in Tuscany?
Take a private boat from Viareggio up to Cinque terre stop at a private beach for snorkeling and having a sunset dinner at Colletto in the evening.
What season do you look forward to in Tuscany?
Spring when the garden is amazing.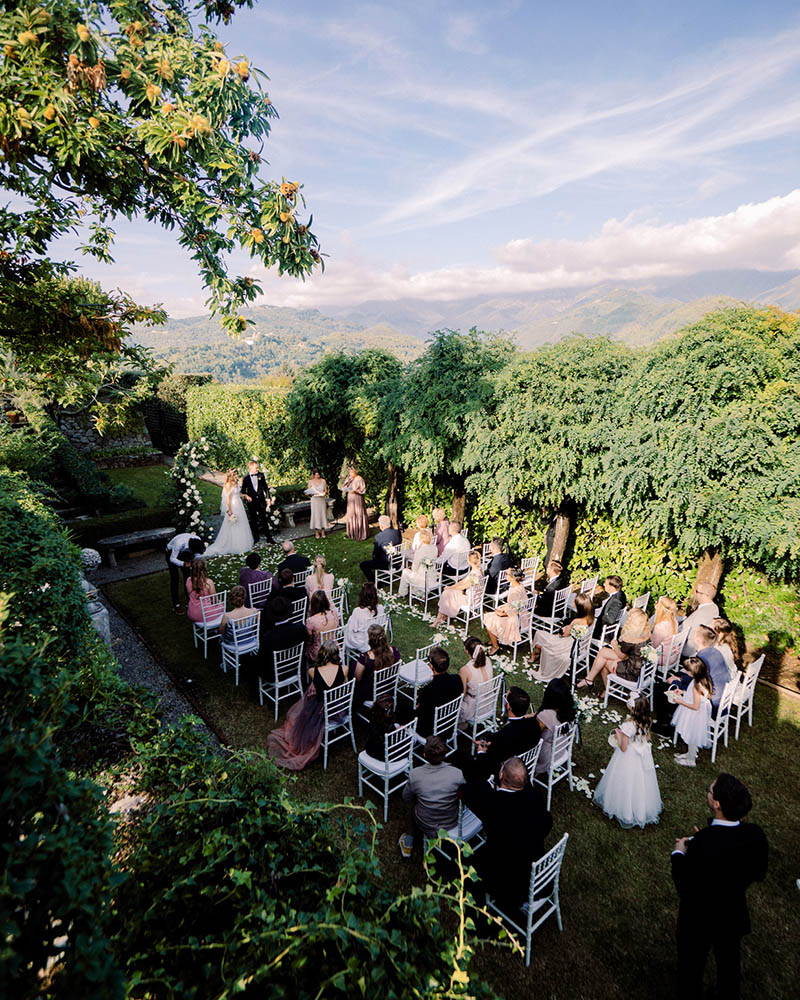 Weddings at Colletto Villas